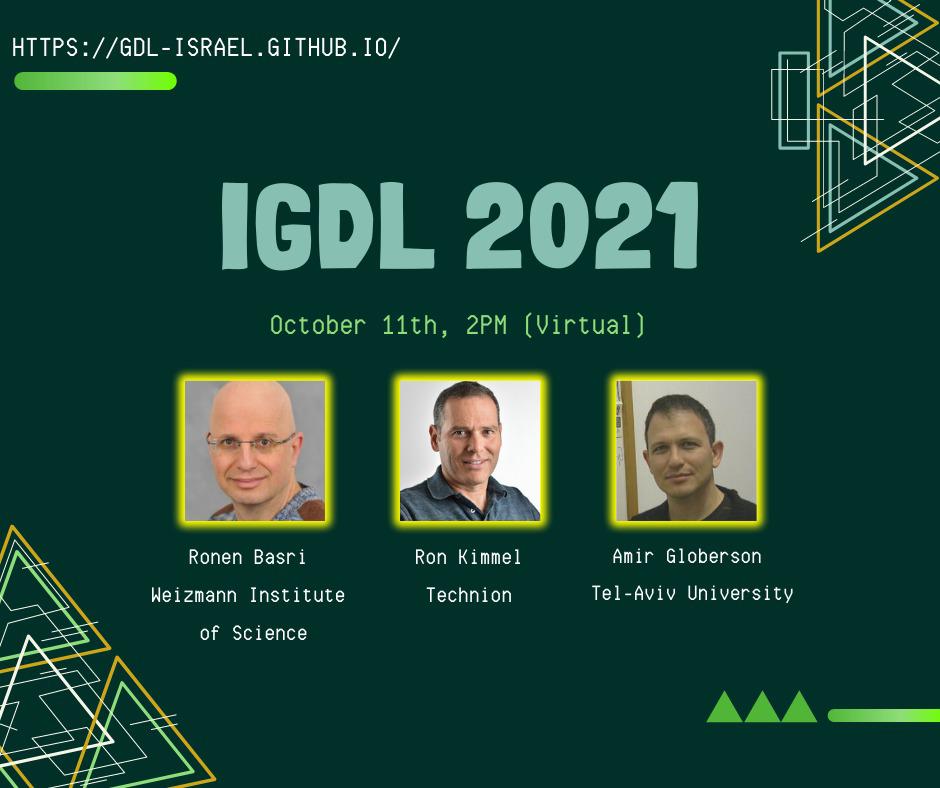 Goal and call for presentations
Following the success of last years conference, we are happy to announce the second Israeli workshop on geometric deep learning (iGDL) that will take place on October 11th, 2021. The workshop will be in English, and will take place virtually via Zoom.
The goal of this workshop is to establish a GDL community in Israel, get to know each other, and hear what everyone is up to. We hope the workshop will be successful and lead to similar events in the future, as well as a closer collaboration of the Israeli community.

If you would like to attend, please register here. We will use the email from this form to send you the link to the zoom meeting.
Topics
Deep learning on non-Euclidean domains, including:
Sets
3D representations (e.g. point clouds, surfaces, voxels, implicit functions)
Graphs
Applications of the above in the following fields:
Computer vision
Graphics
3D Modeling
Social network analysis
Chemistry, Biology, Physics, Medicine, etc
Invited Speakers
Ronen Basri

Ron Kimmel

Amir Globerson

Weizmann Institute of Science

Technion

Tel-Aviv University
Organizers
Haggai Maron

Or Litany

Rana Hanocka

Heli Ben-Hamu

NVIDIA

NVIDIA

University of Chicago

Weizmann Institute of Science
Contact Info
E-mail: israel.gdl.2021@gmail.com
Registration